Garcinia Cambogia for Weight Loss | Benefits | Side Effects
If you observe the labels on well-known weight loss supplements, you will discover that a component common to most of them is the Garcinia Cambogia extract. This sour fruit has recently been labeled as the "Holy Grail" of weight loss because of its fat blocking and fat burning properties, making it one of the most popular ingredients in the current weight loss market.
The Garcinia Cambogia fruit, in fact, has been used for decades as an ingredient in cooking native food in Southeast Asian countries. Its sour properties help in making some Asian dishes become more flavorful, however, people who use it as a cooking ingredient noticed that when they eat food with Garcinia Cambogia extract, they feel full longer and they experience less hunger pangs and cravings in between meals.
A few studies imply that Garcinia Cambogia fruit extract may slow down the production of fat, however, the active chemical component of the fruit, the hydroxycitric acid (HCA) has been associated to damage the liver.
Before we conclude anything, however, it is important to take a closer look at these claims, and refer to different sources and studies so that we can make a more educated decision on whether to use Garcinia Cambogia or not. Read on as we list the different benefits, advantages and possible disadvantages to the supposed "Holy Grail" of the weight loss industry.
Garcinia Cambogia Extract Aids in Weight Loss
Hydroxycitric acid might do what its promoters claim it would: Prevent food from being accumulated in the form of fat. One of Dublin City University's senior lecturer, Donal O Mathuna stated that animal examinations conducted since the year 1960 proved that
Garcinia Cambogia HCA i
nhibits a fat-formulating enzyme in the body while at the same time helps curb appetite.
Holding a master's degree in Bioethics and a doctorate's degree in Pharmacy, O Mathuna states that human researches have attained diverse results. While individuals using products with Garcinia Cambogia fruit extract content have in fact lost weight, experiments were not accurate enough to conclude whether hydroxycitric acid or other factors actually contributed to the reduction of weight.
Garcinia Cambogia for Weight Loss: Is it all true?
Back To The Top

In 2012, Dr. Mehmet Oz made an announcement that rocked the weight loss industry. He called Garcinia Cambogia the "Holy Grail" of weight loss, and a "revolutionary" solution to obesity. But is Garcinia Cambogia for weight loss as effective as Dr. Oz claims?
Garcinia Cambogia, or Gambooge, is a fruit that is natively found in Asian countries such as Indonesia and India, and is used as a popular cooking ingredient. It is also used as a constipation remedy in traditional medicine as it softens stool. After Dr. Oz pronounced it as the newest best thing to happen to weight loss, Garcinia Cambogia became a celebrity.
Quick Weight Loss with Garcinia Cambogia
According to Dr. Oz, Garcinia Cambogia is the newest and fastest answer to obesity problems. He added that with the HCA in Garcinia, an individual can burn fat without having to spend all day excessively dieting and intensely exercising.
Advocates of the Garcinia Cambogia for weight loss supplements also claim that the fruit extract greatly helps in increasing an individual's energy while decreasing cholesterol levels.
Dr. Oz also said that the fruit in itself is a breakthrough and the simplest solution for people looking to get rid of fat but have been very busy to exercise and diet. One of his guest hosts, Dr. Lindsey also explained that there are more benefits than just simple weight loss.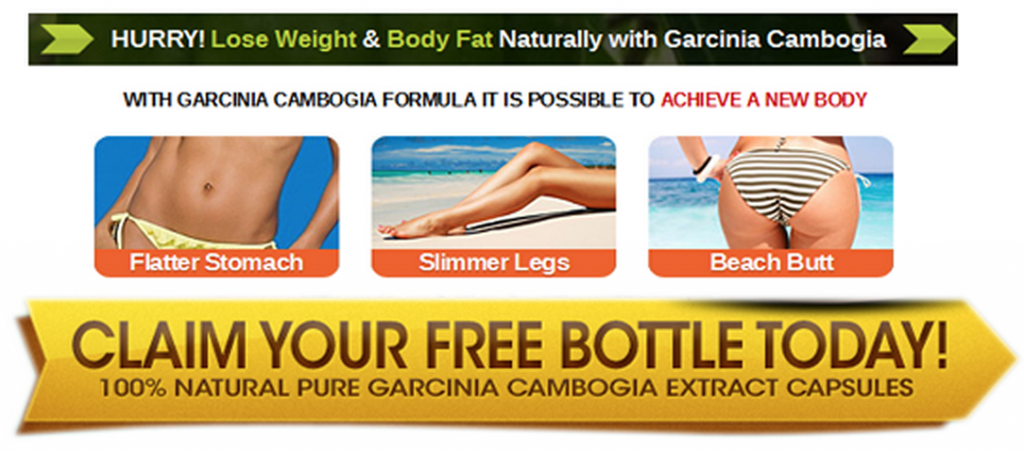 According to her explanation, the Garcinia Cambogia extract nudges the body to burn sugar or glucose as soon as it is consumed, as well as burn fat starting from the liver. It then slows down the release of glucose into the blood, which means that fat does not build up because there's no sugar to store in the fat cells. When these processes are combined, the body enjoys a synergistic effect wherein fat is blocked and burnt at the same time, in the safest and most natural way possible.

Scientifically-backed Weight Loss Claims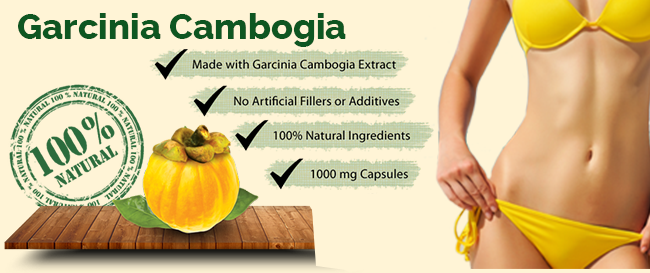 The component that makes Garcinia Cambogia effective in jumpstarting weight loss is called HCA or hydroxycitric acid. Although there are reports about liver toxicity in HCA, consumption of Garcinia Cambogia in proper dosages is safe, according to an article published in the Journal of Gastroenrerology.
In a meta-analysis involved HCA and Garcinia Cambogia wherein 9 studies and trials were conducted on 706 participants, the Journal of Obesity was able to determine that the HCA found in Garcinia extract had a significant effect on the overall weight of the respondents.
There were minimal side effects such as gastrointestinal discomfort, skin rashes, mild headaches, and common colds.
The HCA in Garcinia Cambogia has been a subject of studies ever since the early '90s, and was even mentioned in a published Journal of the American Medical Association article. The study involved a randomized, placebo-controlled, double-blind trial for 12 weeks with 142 participants. Both the placebo and the HCA group lost weight, but there was not a lot of difference in terms of side effects and adverse reactions.
Getting the Most Out of Garcinia Cambogia for Weight Loss


To get the most out of your weight loss supplement, you should choose a brand and product that has it all. There is a basic guideline that should be followed when purchasing a Garcinia Cambogia for weight loss product:
The bottle or packaging should clearly indicate the materials or ingredients included in every single pill
There shouldn't be fillers, stimulants, artificial ingredients and binders in the product
The proper dosage should be indicated, such as 1000 mg to 3000 mg per day
The supplement should not advice that it should be taken for more than 12 months
You should consult with your doctor before purchasing a Garcinia Cambogia weight loss product so that your existing medical conditions will be checked
You should avoid taking weight loss supplements containing HCA if you are pregnant, breastfeeding, diabetic, hypertensive and have high cholesterol levels
The right Garcinia Cambogia weight loss supplement can be effective for fat blocking and fat burning. In fact, studies show that it can boost your metabolism by more than 800% when taken at the right dosage and frequency. These studies also support the claims that approximately 40% cholesterol level reduction can be expected from the product, and you can lose as much as 2 inches of belly fat after just a month of Garcinia Cambogia consumption.



Apparently, Dr. Oz's claims and announcement that Garcinia cambogia is a weight loss breakthrough might be substantial, after all. The studies and research involving this fruit is extensive, backing its weight loss claims. The key is in choosing the right product that contains Garcinia Cambogia HCA. It is important that you read labels, do your due diligence and research about every single weight loss product that you consume. This way, you will avoid health risks, and you can maximize the weight loss results.
Garnicia Cambogia Benefits!
Back To The Top

Weight loss is a topic that has gained a lot of publicity over the years. People are in search of quick fix weight loss remedies. They do not take into consideration the health implications involved. Nevertheless, it is possible to lose weight in a healthy way and derive immense benefits in the process. This is what Garcinia Cambogia benefits is all about. Garcinia Cambogia is derived from the bark of a pumpkin like fruit . It is found in the south east region of Asia where it has been used in weight loss among other health benefits. At the moment, it is very popular among thousands in the United States after they learnt the benefits it contains.
Garcinia Cambogia benefits make it a superior product for anyone that is interested in losing weight the hassle free and healthy way. One of its most superior benefits is its ability to suppress ones appetite. It dulls ones appetite making them eat less because they feel full faster than they would normally. When one eats less, they cannot gain more weight. They tend to lose some of the weight they have already gained. Another benefit associated with it is that of being a fat blocker. It makes it possible for fat to reaching the persons cells and collecting there. When a person does not store fat in their cells, then it is impossible to gain weight.
When this benefit of fat blocking is combined with that of suppressing appetite chances of losing weight in a healthy way are maximized. Some people look for easy remedies to lose weight and fail to recognize this remedy is of the best there has ever been. Cravings for unhealthy foods are also minimized. Aside from being used for weight loss, the person taking Garcinia Cambogia will realize that their energy levels are heightened, and their moods are uplifted. This heightened energy will lead to one to look for extracurricular activities to undertake. This will ultimately contribute to a healthy weight loss. The person gets to enjoy life and achieve their dream body effortlessly.
Many weight loss products in the market have several side effects associated with them. The famous Dr Oz has greatly recommended the use of this product for those seeking to lose weight. Being a medical practitioner, he knows the benefits that a person can derive from its use. It has also been confirmed to aid in improved digestion. The best part of it all is that there is no harm that befalls the person using it. There are no addictions, and once you achieve your desired body size, you can discontinue its use and still live by the healthy acquired lifestyle.
It's the high time to be smart and leave the diet pills and adopt the Garcinia Cambogia product and take advantage of its numerous benefits. It could seem like a fable for those that have not used it yet. But the truth of the matter is, it's a wonder product that you will wonder why you never used it sooner.
Garcinia Cambogia Extract Help Lower Cholesterol
The fat-reducing effect of Cambogia Garcinia may aid in lowering cholesterol as shown by many studies. A research by C.A.R. Vasques and other Brazilian researchers examined the HCA effects on 58 overweight patients. Half of them were given a placebo and half were given Garcinia Cambogia HCA. There were no participants that were given any dietetic restrictions. Those who took HCA showed lower cholesterol levels, however, they did not lose a significant amount of weight.
How Safe is Garcinia Cambogia Extract?
Weight loss supplements containing Garcinia Cambogia extract may be risky. Based on 'The Globe and Mail', the intake of Garcinia Cambogia by bodybuilders and dieters has led to cases of severe liver damage and one death in the U.S. There were also reports indicating some individuals using Garcinia Cambogia in Canada were found to have problems with their neurological, respiratory, cardiovascular, and gastrointestinal systems. Garcinia Cambogia's safety might depend on whether it was a primary or secondary element in a certain weight loss supplement.
Results of Garcinia Cambogia Clinical Trials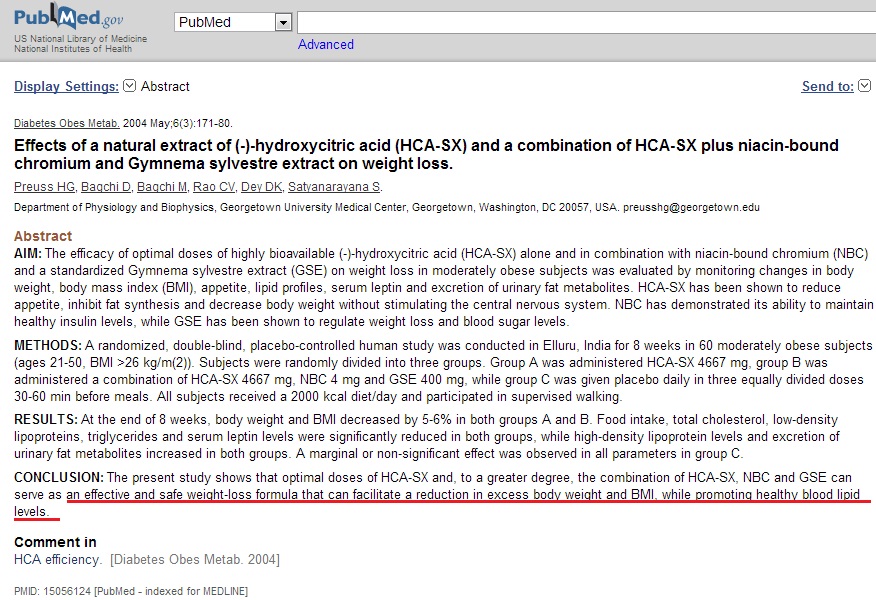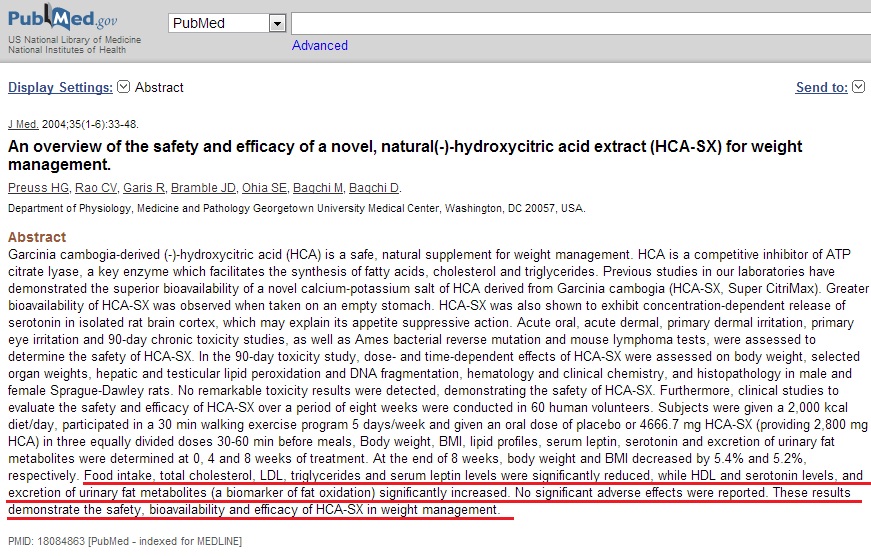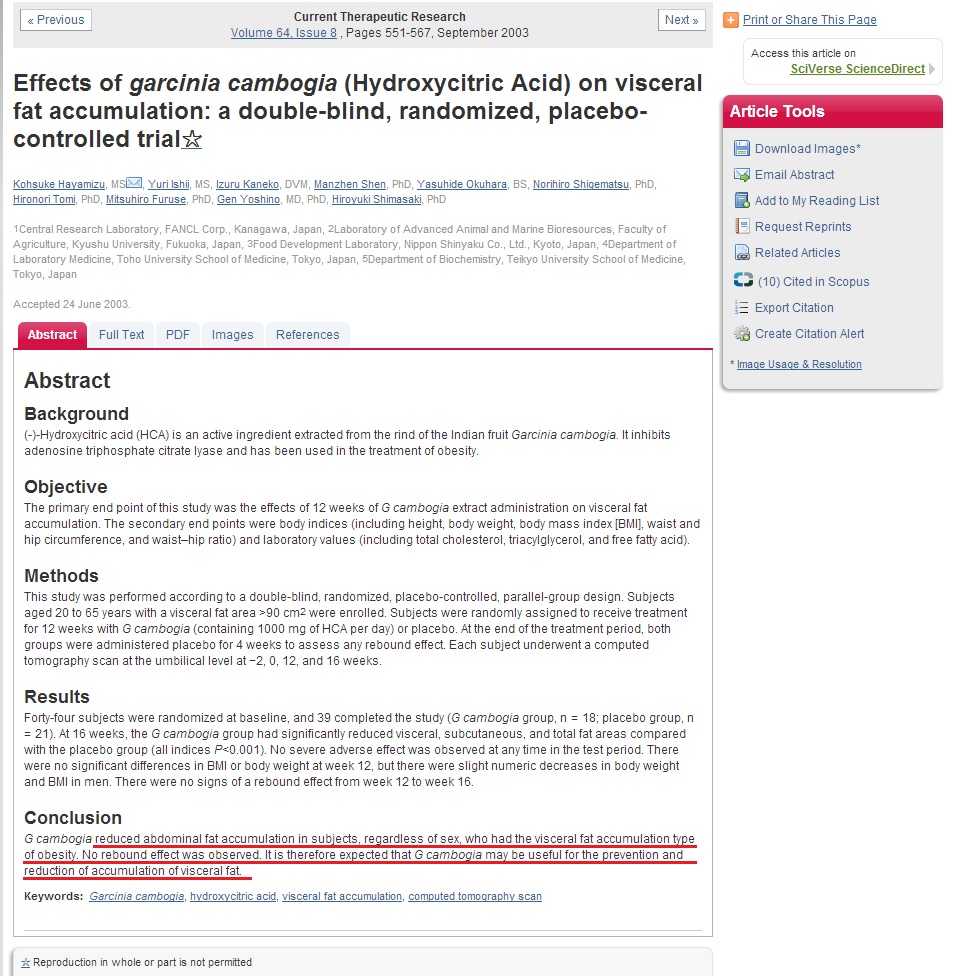 Some Things to Consider
Consult your health provider before using any weight loss supplement or starting a diet. You have to consider some safety concerns of supplements containing Garcinia Cambogia HCA and research any other ingredients or herbs in any weight loss product you are considering. In fact, numerous herbs marketed by the industry of weight loss pose threats, including bitter orange and ephedra, both of which have been associated to heart attacks. O Mathuna advises avoiding supplements or any other products out there which contain Cambogia Garcinia until more advanced study is conducted.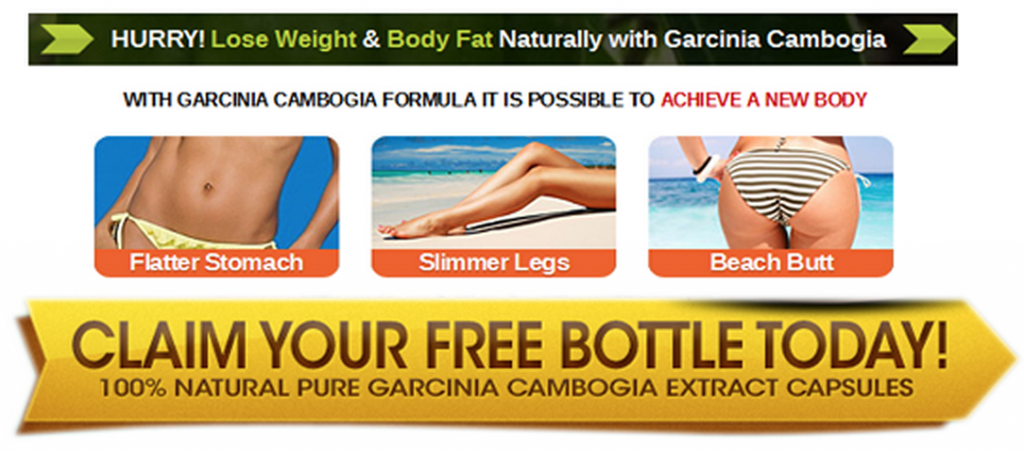 How Garcinia Cambogia Extract Can Affect You
According to a published Chemical Society Reviews November 2010 article, defending your body from oxidation may add to your life expectancy. Herbal medications such as Garcinia Cambogia may provide this sort of protection in the long run. An analysis presented in the Lipids in Health and Disease January 2011 journal has provided the public a closer look at the antioxidant properties of Garcinia Cambogia. They used laboratory animals in their experiment, wherein these animals received either an inert treatment or the herbal supplement for a month. The rats on placebo gained weight and showed signs of oxidation. On the contrary, rats that were given extract derived from Garcinia Cambogia have lost weight and did not show signs of oxidation nor toxicity.
In the Physiology and Behavior article published in October of 2000, a clinical experiment presenting observations on the effect hydroxycitric acid, the active component in Garcinia Cambogia. In this study, a number of obese women were given daily doses a supplement containing Garcinia Cambogia for 3 months. Comparative to placebo, this treatment resulted to a considerable amount of weight loss. The participants who received Garcinia Cambogia lost 8 pounds on an average. There were no appetite reduction or improvement, and no reports regarding allergic reactions were stated.
According to a Ceskoslovenska Fysiologie review conducted in 2011, controlling inflammation and swelling decreases morbidity in patients. Prescription medicines may reduce the development of inflammations, but many of these drugs result to allergic reactions and stomach ulcers. A trial offered in the March 2009 journal of Phytotherapy Research examined the capability of Garcinia Cambogia to reduce any type of inflammation. Rodents with inflamed bowel ailment received either a placebo or the supplement for several months. Based on their findings, doses of Garcinia Cambogia diminished a number of inflammation markers without resulting to toxicity.
Garcinia Cambogia Side Effects: Are they real?
Back To The Top

Garcinia Cambogia, also known as Gambooge, gained a significant amount of media attention when Dr. Oz called it as the "Weight Loss Holy Grail" in 2012. It has since been the subject of multiple scientific studies and had been found to be effective in blocking fat formation and in boosting the metabolism. The active component in Garcinia Cambogia fruit extract is HCA or hydroxycitric acid which was found to triple the effects of an individual's weight loss efforts.
According to varying reviews, there are both positive and negative effects to using Garcinia Cambogia, so it is important to take a closer look so as to understand the weight loss claims of products containing this fruit extract.
The Possible Side Effects of Garcinia Cambogia
It is a fact that Garcinia Cambogia fruit is safe to consume when taken in correct levels, and is even one of the most popular souring ingredients in some Asian countries. But there are instances wherein you may think twice about using any supplements with Cambogia Garcinia.
1. Drug Interactions
In some cases, Garcinia Cambogia fruit extract may help lower the levels of blood sugar, thus, caution is recommended when taking other kinds of medication that might also lower blood sugar. Individuals using drugs for diabetes, orally or through insulin injections, must be examined closely by a qualified healthcare expert, as well as a pharmacist. Adjustments in medication may be required.
Using hydroxycitric acid along with prescriptions containing statin such as the atorvastatin calcium medicine Lipitor®, may increase the risk of acquiring rhabdomyalisis, a skeletal muscle degeneration disease. In fact, a rhabdomyolysis incidet was stated in a case report of one patient using a herb-based weight loss medicine which has a 50% HCA content.
2. Interactions with other Herbal Supplements and Medications
Caution is strongly advised when taking supplements or herbs that would also lower down your blood sugar. Doses might need any adjustments and levels of blood glucose might require monitoring.
3. Pregnancy and Breastfeeding
Garcinia Cambogia is strictly not recommended for breastfeeding or pregnant women, yet this one lacks scientific evidence. However, we recommend that you should not use this supplement to avoid any harmful risk that may pose risk to you and much more to your baby.
Choosing the right Garcinia Cambogia weight loss supplement will not only maximize the weight loss results, but will also help you avoid risks. Do your due diligence and closely research from multiple resources in order for you to have a better understanding about the side effects of Garcinia Cambogia HCA and if the supplement is just right for you. Aside from that, you should also know if you are eligible to take the supplement. In order for you to get some helpful advice, you should consult your physician.
Garcinia Cambogia: How does it work?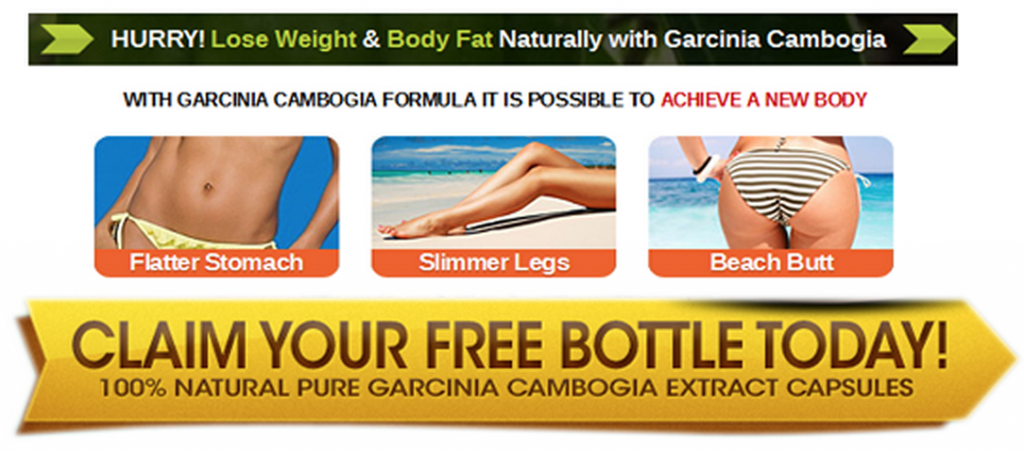 A supplement containing the fruit extract of Garcinia Cambogia works by blocking fat formation and suppressing an individual's appetite. According to the results collated from different group studies, obese women who took a supplement with HCA from Garcinia Cambogia consistently for 3 months lost an average of 8 to 14 pounds.
It is important to take note that the HCA in Garcinia extract does not directly remove fat, however, it inhibits fat cells from forming when food is consumed. It also decreases appetite, eventually jumpstarting the weight loss process, especially when paired with a balanced diet and routine exercise.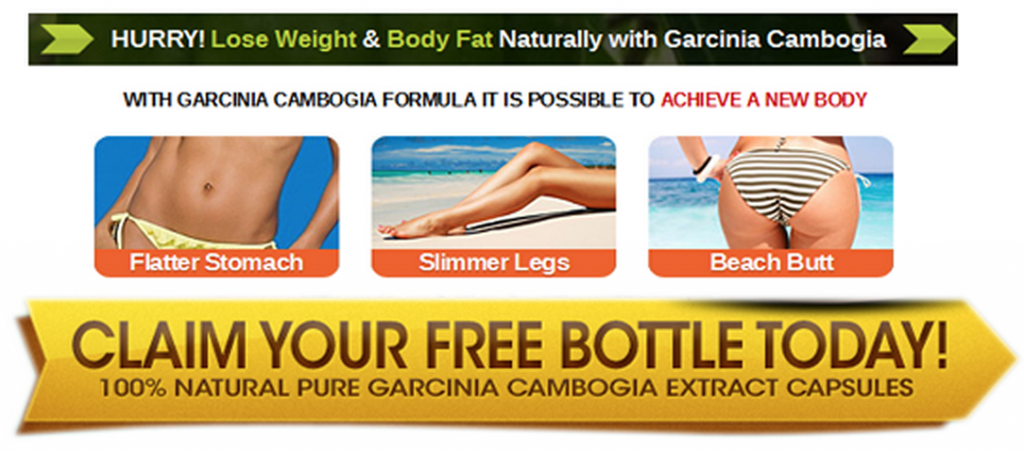 Garcinia Cambogia has reached celebrity status in the weight loss field because of the media attention it has been getting from TV talk shows, plus the testimonials given by different celebrities. In its rise to popularity, it is inevitable that negative side effects will also be looked at. According to the HNI or Health News Informer, there are several mild side effects that should be expected when taking health supplements containing HCA from Garcinia Cambogia such as:
Nausea
Frequent Bowel Movements
Dizziness or mild headaches
Health experts also advise that pregnant and breastfeeding women should not take any weight loss supplements containing Garcinia. Those who have high cholesterol count and diabetes avoid supplements and herbal medicines containing HCA from Garcinia Cambogia.
Here are other side effects that can be experienced from taking Garcinia supplements, but these are based on varied reports
Common colds
Drop in blood sugar levels
Liver toxicity
Skin rash
Sleeplessness
The risks are elevated if the recommended dosage is not followed, however, HNI also reported that the reported levels of side effects are not that high, compared to other herbal supplements. Compared to the thousands of positive reviews, the negative comments on the product is clearly very minimal.
Because of the mixed reviews, a guideline should be followed when buying products that contain Garcinia Cambogia extract.
Garcinia Cambogia Buying Guidelines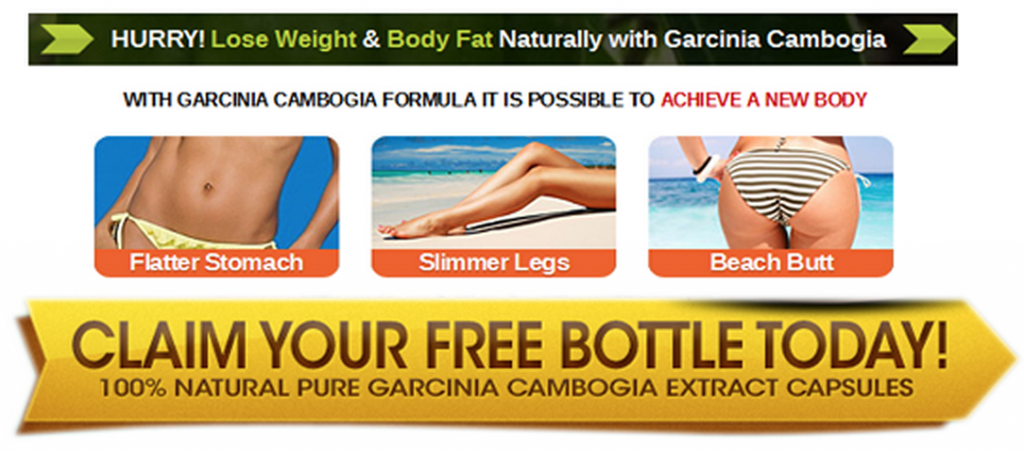 Health experts that advocate the benefits of Garcinia Cambogia believe that many consumers are misled by biased reviews online wherein users are advised to consume larger doses in order to achieve optimal results. There are other websites that state that a user should use a Garcinia Cambogia based product for more than 12 weeks. To avoid side effects from Garcinia Cambogia, here is a guideline that should be followed when ordering:
Check and make sure that the bottle clearly states the ingredients of the supplement, and if it has Garcinia Cambogia, the HCA content should only be 50% and should have potassium as well
The product should not have binders and artificial ingredients as fillers
The maximum recommended dosage should only be 3000 mg
The product should indicate that the supplement should not be taken for more than 12 months without intervals
The user should consult with a physician if suffering from hypertension, high cholesterol, diabetes, pregnant or breastfeeding
The product is not recommended for patients who have dementia
A proper meal plan and routine exercise plan should be followed to achieve excellent results
The Verdict
It is possible that the side effects we listed in this article may not be experienced at all by a Garcinia Cambogia user. The effects and adverse effects vary according to usage, dosage and personal medical condition of the user. If you have illnesses such as diabetes, hypertension or high cholesterol levels, it is best to consult with a medical practitioner before using the product. It is important to note that the benefits from the product outweighs the Garcinia Cambogia side effects.
Pricing


Summary
Author Rating
Brand Name
Garcinia Cambogia Extract
Product Name
Garcinia Cambogia Extract